5:29 pm
[staringiscaring]

Since this is a dead comm, I doubt any will mind.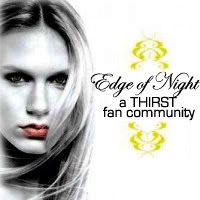 sitathevampire
sitathevampire
sitathevampire
sitathevampire
sitathevampire
sitathevampire
Edge of Night is a fan community for the Thirst/Last Vampire Series written by Christopher Pike in 1994 as The Last Vampire Series and re-released in 2009 as The Thirst Series.
1:22 pm
[unwanted_unlove]

No one likes to post on this journal, huh?
If anyone else out there is interested, I've always wanted to try to write a serial story.
Maybe someone could start it off, writing at least 250 words, and then any and all who are members of this site could attempt to write a second installment, again writing at least 250 words...or something of that sort?
It seems a shame to have a Christopher Pike fiction community that, as of yet, does not display any fiction.
11:27 pm
[unwanted_unlove]

Yes! A Christopher Pike community...
Hi, my name is Alex and I have been an avid Christopher Pike fan for about 11 or 12 years now. The first book I read by him was "Last Act." Not one of his best, but not one of his worst, either (that would be the second book in that Cheerleader series commissioned by Scholastic in my opinion). Anyway, I've been hooked ever since.
As for the "The Cold One" sequel question...the sequel has not been written, and from what I understand, never will be. There are some adult books to look forward to soon, though (yay!). I, personally, loved "The Blind Mirror."
I also have a question. While I like to write, I have never actually written a "fanfic" before. Is that all that this community is meant to contain, or can well-read fans who just write fiction containing their own characters remain as well?
I love the idea of a Christopher Pike community, but I don't know that I particularly want to write a story containing any of his characters, feeling that I could not do them justice. While I like to write, I am not a very good writer. It would feel akin to blasphemy to completely change his characters, and I feel that my frustration at being able to accurately capture his characters' essence would reach intolerable levels.
So...I hope that the creator of this community is open to fans who don't necessarily write fan-fiction.
9:51 am
[jariahel]

Curious...
Hey,
I've read almost all of Pike's books.
I just can't seem to get enough... lol
I just had a quick question, that I hoping someone here will be able to answer...
Have any of you read Pike's book: "The Cold One"?
Well, at the end of the novel it states something along the lines of "Look out for the second part of The Cold One this upcoming summer" and the book was writen in the 90's.
So well, where's the second part of the book?
Current Mood:
curious